New Toyota Cars For Sale - Lakeland, FL

Lakeland Toyota New Toyota Cars For Sale
These Four Toyota Cars Are Great Options For Florida Commuters!
At some dealerships it's SUVS and crossovers that get all the attention, but that's not the case at Lakeland Toyota! We've got over 500 new Toyota cars, and if you commute from Plant City or another suburb into Tampa, then you know how great a sedan's size and fuel-ratings are!
At our Lakeland FL dealership, the Toyota Corolla, Camry, Avalon, and Prius are our most popular models. If you're deciding between these four, keep reading this page to learn about their differences.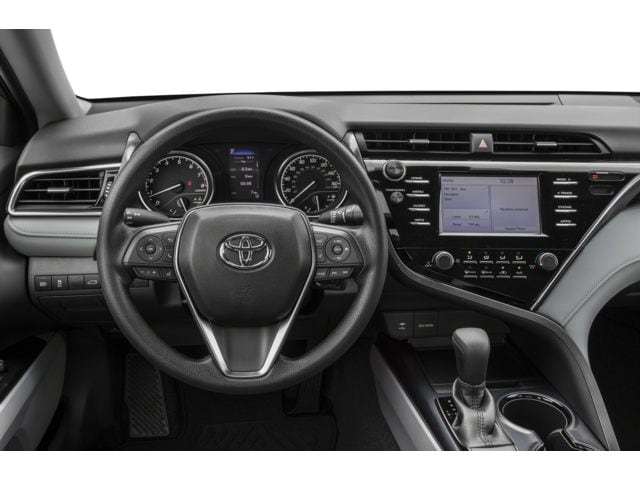 A Basic Generalization
While any shopper can be drawn to a model, these are the types of people who usually buy or lease these top Toyota cars.
Toyota Corolla: young professionals or shoppers who want a nice balance of costs and amenities Toyota Camry: people who want a little more in-cabin refinement and under-the-hood performance Toyota Avalon: mature shoppers from generations that appreciate a big sedan. Families who want a larger backseat without going up to a crossover or SUV also love the Avalon Toyota Prius: eco-conscious buyers who aren't afraid to let other drivers know that they're driving a hybrid and doing one for the planet!
Fuel Economy
Want to maximize your savings at the pump*? Then it's clear the Toyota Prius — a top-selling hybrid — is the way to go. With EPA estimated fuel ratings up to 58 MPG in the city and 53 MPG on the highway, you'll be flying by gas stations.
Of course, not everyone wants to go the hybrid route for a variety of reasons. So, here are the top fuel ratings on these other popular Toyota cars.
Toyota Corolla: up to 30 MPG City/40 MPG Highway
Toyota Camry: up to 29 MPG City/41 MPG Highway
Toyota Avalon: up to 22 MPG City/32 MPG Highway
If fuel savings are important, let our sales person know and they can find you the most fuel-efficient trim for the Toyota car you want to take home to Wesley Chapel.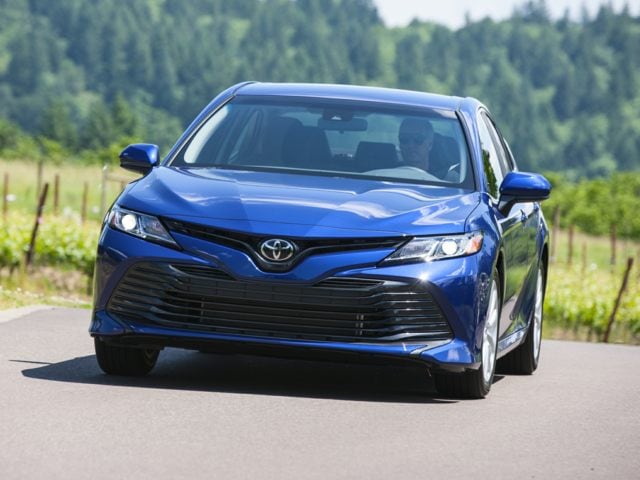 Safety
Because people in Florida tend to spend a lot of time commuting, they often want advanced safety technologies to help keep them safer during busy drives. Thankfully, Toyota Safety Sense™ advanced safety technologies are standard on all Corolla, Camry, Avalon, and Prius trims! We love that no matter your budget, you can have added peace of mind. That said, there are some safety differences between the models. We'll break those down below.
• Exterior Lighting: the Camry and Avalon have available full LED lights for easier evening driving. The Prius front-lights go up to Bi-LED at the highest. The Corolla has available Multi-LED headlights with LED accents. • Cameras: the Corolla and Prius have a standard backup camera. The Camry and Avalon take it a step further with an available top-down camera • Head-Up Display: if you want speed and other pertinent information displayed on the windshield, the Camry and Prius have an available head-up display.
Technology & Comfort
Since these vehicles sit at different price points, it's expected that certain models, like the Avalon, will have more premium tech and convenience amenities than models like the Corolla. We'll look at some key features that car shoppers from Winter Haven and beyond would look for and pinpoint the Toyota models that have them.
• Touchscreen: all models have a standard touchscreen, and the sizes start at 6.1-inches on certain vehicles. • Apple CarPlay™: Toyota is starting to roll out the Apple CarPlay™ smartphone integration across select new Toyota models, and in the coming years it will likely be found on all models. Currently, it's standard on the Camry and Avalon. • Power Seating: power-seating is available on all trims and standard on the Avalon • Ventilated Seating: there's no secret that it gets hot in Florida, and if you want extra help staying cool, ventilated seats are available on the Avalon.
We hope this list has helped you narrow down the top two Toyota cars you'd want to buy or lease. Or maybe you already know! Either way, come down to our dealership to go on a test drive, review financing incentives, and head home in a fabulous car.
*Disclaimer: Fuel ratings are EPA estimates and vary depending on driving conditions and habits. Some Toyota cars have more than one engine, and this also affects the MPG ratings. See dealer for more information.